ABOUT DELFT

History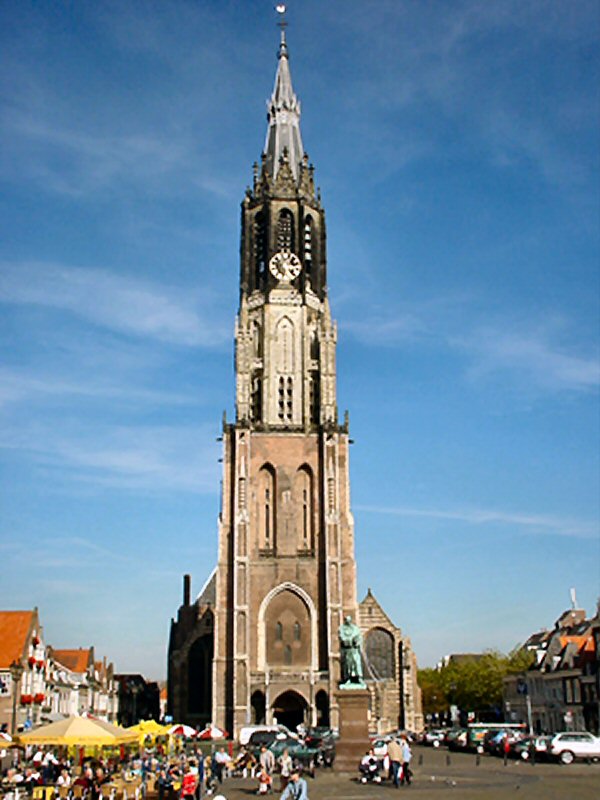 In 1246, Delft received its city franchise from the Dutch Earl Willem II. Delft flourished and new neighbourhoods were added. As early as 1355 the city reached the size it would remain until the 19th century.

On the 3rd of May 1536 the great fire broke out. How it started exactly is not known, but it is likely that the wooden spire of the Nieuwe Kerk was hit by lightning and flying sparks set the surrounding houses on fire. Some 2,300 houses went up in flames. More than a hundred years later, in 1654, an explosion destroyed part of the city. The cellar of the former Poor Clares convent on Paardenmarkt was used to store gunpowder. This central warehouse for the region Holland contained some 80,000 pounds of gunpowder. The consequences of the explosion were enormous - two hundred houses were razed to the ground, and roofs fell in and windows were smashed in another three hundred houses. In 1660 a new gunpowder house was built about a mile outside the centre.

Dutch East India Company
More than 400 years ago the Dutch East India Company was founded. It was one of the largest trading companies in the world with a fleet of more than one hundred ships, thousands of employees, offices in Asia and six sites in the Netherlands, of which one in Delft. In 1602, Delft was a flourishing city, a centre of painting, arts, crafts and science. The foundation of the Dutch East India Company and the establishment of a branch in Delft added another important aspect - the trade with faraway countries. Spices, coffee, tea and Chinese porcelain now found their way to the Republic of the Netherlands and to Delft.
Knowledge and Culture
In 1842 the Netherlands lagged behind its neighbouring countries from an industrial point of view. The country required technically trained people, and therefore the Royal Academy for Civil Engineers was founded. The Academy used the building vacated by the artillery school. The Academy of then is the Delft University of Technology of today, which is also the largest employer in Delft. Some thirteen thousand students are registered with the TU in Delft. Delft is not just a city of culture, but also a city of knowledge. Not just because of the Technical University and TNO, but also because of the many knowledge-based institutes and companies - DSM Gist, the Dutch Normalisation Institute, the Dutch Measuring Institute, Exact Software, Delft Instruments etc. The Netherlands is world famous for its hydraulic engineering works. Students from all over the world come to the TU and the Unesco IHE to gain more knowledge. Large projects are simulated to scale in the WL/Hydraulics.